NHA TRANG OCEANOGRAPHY INSTITUTE
Located at 1 Cau Da Street, next to Cau Da Whalf, about 6km from Nha Trang City center, Oceanographic Institute Nha Trang, also known as National Oceanographic Museum of Vietnam is a leading marine research institute in South East Asia. It has currently stored and preserved thousands of specimens of thousands of marine species. Visiting the Institute, tourists seem to take part in a voyage of discovering the ocean.
Oceanographic Institute Nha Trang was formerly the Indochina Department of Oceanographic Fishery, which was born according to the decision of Governor-General of French Indochina in 1922. From 1930 to 1952, it changed the name of Indochina Oceanography Institute. After the French left Vietnam, the institute owned another name of "Oceanography Institute of Nha Trang", and then it was unified with Marine Creature Institute of Hai Phong and changed to "Oceanography Institute" as today.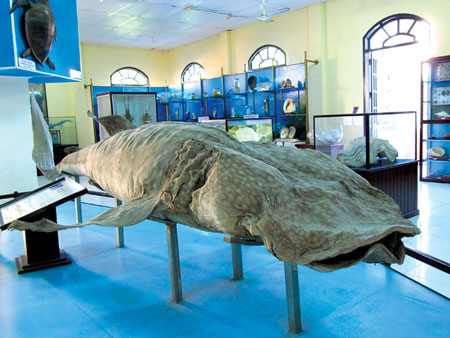 Tourists to Oceanographic Institute may have a feeling that they are taking in a tour underneath the ocean where they extremely observe thousands of diverse organisms. In addition, they have an opportunity to contemplate a survey ship with the tonnage of 30 tons and its speed of 8 miles/hour, which is used by the Institute's researchers on their trips to explore the vast ocean. In particular, thanks to more than 7,000 books and 60,000 scientific journals sent by 140 international organizers from 30 countries over the world, Oceanographic Institute's library owning numerous marine scientific documents compiled in the 18th-19th centuries are actually helpful for scientists nowadays. Besides, the Oceanographic Institute has contributed a large amount of research projects for exploring and protecting the South China Sea, including 1,100 printed publications on the biological diversity.

Visiting Oceanographic Institute, where has kept marine ecology, tourists not only have a chance to comfortably contemplate the unique marine life, but also certainly have much useful knowledge on the potential and conservation work of Vietnamese oceanography as well as citizen's awareness of protecting the ocean. Oceanographic Institute is also worthy an appealing tourist attraction in Nha Trang.
- Sưu tầm -