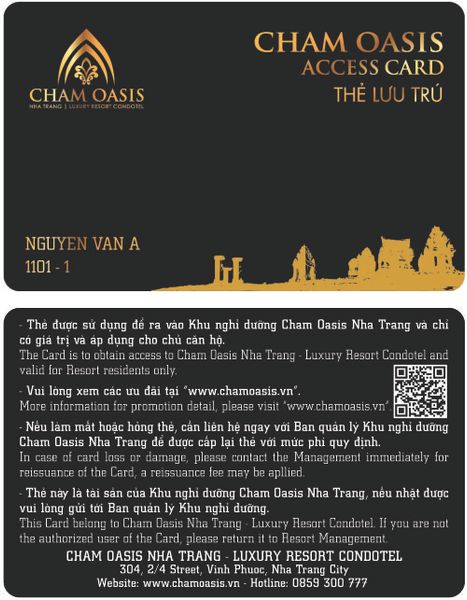 (This type of card is for Cham Oasis's resident only)
Discount 30% on Champa Island Hotel or Cham Oasis Condotel room rates(not to exceed 2 rooms/night).
Discount 20% spa service at Champa Spa (1 service/1 time – not applicable to Champa Package).
Discount 10% on F&B service at Champa Garden Restaurant, Apsara Coffee, Karaoke, buffet breakfast at Brahma restaurant or Kubera restaurant(not to exceed group of 20 pax).

TERMS AND CONDITIONS:
This card is used by authorized cardholders and not transferable.

This card is to obtain access to Cham Oasis Nha Trang - Resort Condotel.

Must be presented prior to payment.

Offers are not in conjunction with any on-going promotions and not available on Tet or public holidays.

This card is the property of ChampaGroup. If found, please return them to Reception.

Offers could be adjusted without prior notice by the appropriate time.